Laptop 
Repair & Notebook Repair
Laptop Repair London Services
At Verge Tech Solutions, We pride ourselves on providing the best Laptop Repair London services has to offer. We aim to provide fast and efficient service, and we have our technicians ready to service your needs at any time of the day or night. Whether you're individual or business client, we offer same day onsite repairs to get your laptop back up and running again as soon as possible with minimum fuss.
In most cases, we will be able to service your laptop within an hour or two. Our coverage area includes London, Berkshire, Surrey and suburbs. Whether you need help with removing a virus, upgrading your laptop or network issues, our technicians use the latest techniques to quickly identify the problem and take necessary measures to fix your laptop and get things back to normal.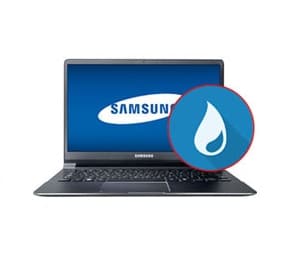 There are various methods recommended for dealing with laptop water damage depending on when the damage is discovered. The most important step is that if you think that some sort of liquid has been spilled into your laptop and it is already powered off, DO NOT POWER IT ON!
Laptop liquid damage is dangerous because it can not only ruin a keyboard, but also damage your system's motherboard. Contact us immediately and we can get you up and running in no time!
We can always get data from liquid damaged laptops, even if they won't turn on! Liquid damage primarily damages keyboards and motherboards, but the hard drive is typically saved. If you've got a liquid damaged computer and you want the data, we can help!
Laptop Keyboard Replacement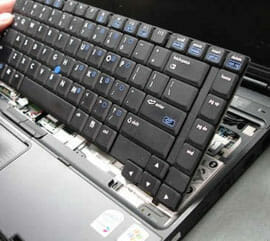 Sticky or missing keys? Our laptop keyboard replacement service is the answer. And with a keyboard replacement cost that's significantly lower than branded or national alternatives, our keyboard repair service guarantees happy customers as well as working machines.
Our keyboard repair service is carried out by qualified, experienced professionals and is suitable for both Mac and Windows machines. Our laptop keyboard replacement service is quick and convenient. We don't outsource keyboard repair jobs. And that means you can usually get your machine repaired on the same day.
If we can't fit you in there and then, we'll keep the laptop overnight and get it back to you the next day. No waiting around for delivery lorries to return your computer, no communication breakdowns or quibbling about warranties. Just fast, affordable repairs that get you back on your feet when you need them to.
Laptop Screen Replacement
Damaged or cracked laptop screens are a common occurrence. Dead pixels and lines that extend in a vertical direction is another common problem. Whether is would be more cost effective to repair than to replace depends on the age and configuration of your laptop. Our technicians will help you make the correct choice. More often than not, simply replacing the screen is enough.
We can usually pick up replace a cracked or broken screen same day. We offer same day replacement of all major brands. Our laptop screen replacement service is convenient. You can call us with your model number, we will give you a quote and can come to you with the replacement screen.
Laptop Power Jack Replacement
Got no power? No problem. Our laptop power jack replacement service will power you up again. We provide a fast, efficient, and cost-effective laptop power jack repair service. Prices are transparent and constantly monitored to make sure they stay lower than our competitors.
We repair laptop power jack assemblies for business and home users. Our engineer come to your home or place of business to pick up your machine. You don't have to do anything except make a phone call. If it's urgent, we'll do everything we can to make sure your machine is back with you on the same day, fixed and ready to finish your project.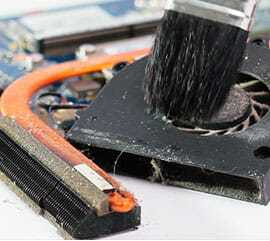 Keep your laptop in good health with our laptop cleaning service. We offer a fast, same-day service for all makes and models. Our laptop fan cleaning services are vital for ongoing computer health. If your machine is older than two years, and has never had its fans cleaned, it's likely to need them doing.
Your laptop fan is responsible for cooling the vital components packed tightly inside the case. It blows the hot air, generated by the working elements of the computer, out through the air vents. But air isn't the only thing passing through those vents. Over time, tiny particles of dust and dirt, sucked into the machine by the action of the fan, clog up the blades.
Laptop Fan/ Heat sink Replacement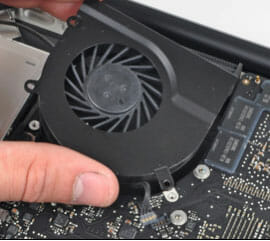 Cooling fan gone? Our laptop fan replacement service is fairly priced and quick. We'll even pick your laptop up from your home or place of business, and drop it back to you once the fan repair is finished.
The cooling fan is a vital element of your laptop's heat removal system. It's responsible for removing the hot air generated by the processor and other parts. In modern laptop designs, air is usually removed from heat sources using a 'heat pipe' system, which delivers the exhaust to the fan to be blown out through the cooling vents. Because everything in your laptop is packed together so tightly, a broken or faulty fan is a critical issue.
If your cooling system goes, an expensive laptop can become junk in just a couple of hours. Our fan repair services are here to stop that happening.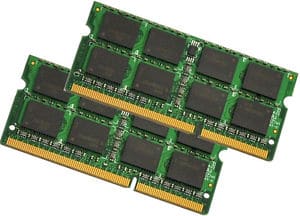 One of the most common ways to increase the speed and performance of your laptop is by upgrading/increasing its memory (RAM) size. Not every laptop, however, can be easily upgraded. In fact, there are some laptops that can NOT be upgraded. We can assist you in making this determination and by providing the services necessary.
Laptop Broken Hinges
Laptop hinges often break because of the repetitive opening and closing of your laptop's LCD panel. If this is done constantly and carelessly, your display hinges may crack and/or snap. Repairing your laptop's hinges often means replacing the hinges completely.
If you drop your laptop and part of the casing is broken We can replace the broken parts. We stock many laptop parts and carry out the laptop repair in a friendly professional manner.
Operating System Reinstall
Hard drive replacement and Operating System re-install depends on the age of the laptop. If the PC is older than 8 years we would recommend against this.
If your laptop is running slow or post the message saying "Error Loading Operating System" or you're getting the infamous BSOD "blue screen of death" then we can help identify the problem either get the operating system running again or/and re-cover your documents and perform a clean wipe of operating system.
Battery and Power Problem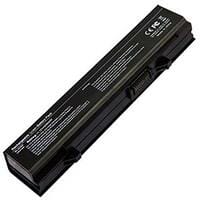 If your laptop won't power up it may not be a laptop problem at all. Oftentimes a bad power supply, battery and/or charger is the culprit of a dead computer. And believe it or not, replacement is often more cost effective than repair in the long run. We can assist you in making this determination and by providing the services necessary.
Other Common issues, Our technicians can help with:
Password Recovery (Windows)

Antivirus/ Anti malware installation

Internet Connection Issues

Laptop faulty power Button
Laptop maintenance Services

Operating System Keep Crashing

HDD to SSD (Solid State Drive) Upgrade

Data Recovery from Broken Hard Drive

Laptop turns on or off randomly
Pick Up & Drop Off Service
If you're short on time we can pick your computer or device up, repair it in our workshop and return it to you. This is our preferred method for laptop screen repairs and Mac repairs that require special parts.
We repair all major brands of computers, laptops and peripherals, including: Acer, Apple Mac, Asus, Compaq, Creative, Dell, Gigabyte, HP, LG, Lenovo, Logitech, Microsoft, Samsung, Sony, Toshiba and many others.  There are no extra charges for our same day service!